Who doesn't love to shop till they drop? And shopping becomes even more attractive when you find bargain prices on products, even at some of the most luxurious stores. Find brands like Ann Taylor, Abercrombie & Fitch, Nordstrom, Armani, Guess, and other cheaper brands that offer their merchandise at reduced prices without compromising the quality. These outlets in Massachusetts have it all, so plan your next visit to one of these for exciting offers and benefits.
1. Lee Premium Outlets
Head on over to their website to find the hottest trends and styles from a total of 60 stores, including Ralph Lauren, Nautica, Adidas, Coach, Banana Republic, and more. You can browse through items ranging from clothes to accessories and shoes. The outlet is open from 10 a.m. to 6 p.m. and sometimes 8 p.m. throughout the week, even on Sundays and national holidays, though the hours differ. Considering the variety that you are surrounded by, even 8 to 10 hours aren't enough to indulge your senses.
If you get tired and hungry while shopping, the venue offers eateries such as Berkshire Burrito and New England Wraps. In their deals section, you can check out the jaw-dropping discounts and offers that many brands are giving. The outlet's main amenities include an ATM, a drinking fountain, handicapped-accessible restrooms, strollers, and lost and found.
Address: 17 Premium Outlets Blvd Lee, MA 01238
Phone Numer: +1 (413) 243-8186
Website: https://www.premiumoutlets.com/outlet/lee
Main Stores: Ann Taylor, Bath & Body Works, Calvin Klein, Coach New York, Forever 21, Lindt Chocolate, and Jockey
2. Wrentham Village Premium Outlets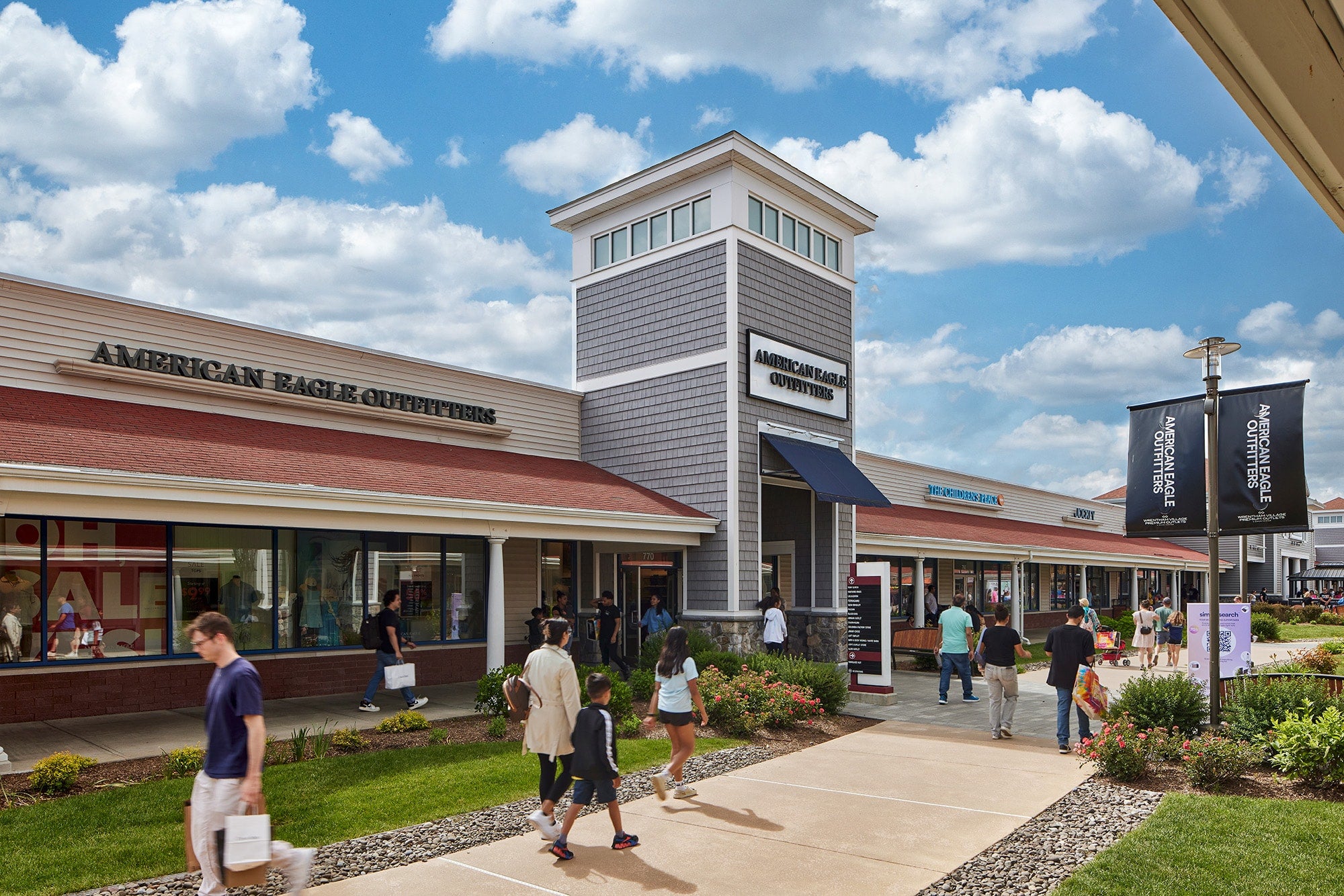 The largest outdoor outlet in New England, Wrentham Village, features more than 170 brands offering a variety that caters to all kinds of shoppers. The exclusive deals offer discounts of up to 65% at one-of-a-kind stores, including Tory Burch, Jimmy Choo, Versace, and Burberry. For people who love eating out, options such as Tavern in the Square, UNO Pizzeria & Grill, and Ruby Tuesday will offer you mouth-watering cuisine that will leave you licking your fingers.
Their VIP Shopper Club will give you access to a VIP Coupon Book and 80 + exclusive offers. Plus, to make shopping easy and accessible, there are various amenities including but not limited to accessible parking, a baby changing station, a mall map, a hand sanitizer station, Electric Vehicle charging stations, wheelchairs, wireless internet, and restrooms. 
Address: 1 Premium Outlet Blvd Wrentham, MA 02093
Phone Numer: (508) 384-0600
Website: https://www.premiumoutlets.com/outlet/wrentham-village
Main Stores: Banana Republic, Boss, Burberry, Burton, Champion, Clarins, Crocs, GAP, Guess, Lacoste, and Nike
3. Assembly Row
Assembly Row boasts more than 50 brands and shops in its vicinity, including J. Crew, Puma, Sephora, Sunglass Hut, Pandora, and Lululemon, with weekly deals offering fabulous discounts and offers. The outlet was brought to life in 2015 through a collaborative effort of Federal Realty and the City of Somerville, and to this day, Federal Realty continues to build more shops and add new facilities to enhance the consumer experience.
For instance, there is a 5-in-1 fitness studio right in the building where you can go for a workout, including boxing, cycling, and pilates. After an intense session, you can enjoy a smoothie at the Squeeze Juice Company. If you want to grab some food while shopping, you can check out diners and restaurants like the Smoke Shop, Sweetgreen, and Union Square Donuts. Lastly, bring out the inner painter in you and check out the Muse paint bar, which you can enjoy with family and friends.
Address: 355 Artisan Way Somerville, MA 02145
Website: http://assemblyrow.com/
Main Stores: Adidas, Levi's, Steve Madden, Yankee Candle, Tillys, vineyard vines, Loft, and Kay Jewelers
4. Burlington Mall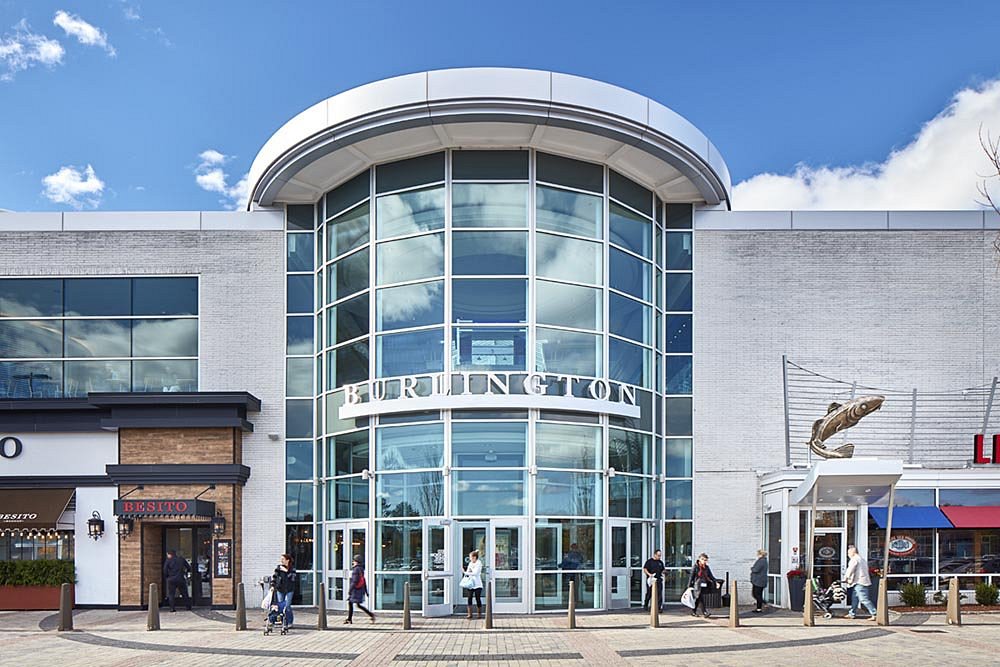 A premier shopping destination in Northwest suburban Boston, Burlington Mall features 185+ shops such as Apple, Macy's, Tory Burch, Sephora, and Warby Parker. And since going shopping is like getting into a black hole, especially with the amazing discounts and offers that the mall gives its customers, you know you'll never get out.
So while you're there, delight yourself with food from The Cheesecake Factory, Legal Sea Foods, and Karma Asian Fusion Cuisine. Also, enjoy amenities like the amphitheater, children's play area, a drinking fountain, elevators, escalators, and a security and police substation. There are also many family-friendly events and eateries so that you and your family can have a nice and memorable outing full of fun and adventure. 
Address: 75 Middlesex Turnpike Burlington, MA 01803
Phone Numer: (781) 272-8667
Website: https://www.simon.com/mall/burlington-mall
Main Stores: Abercrombie & Fitch, Aldo, American Eagle, Ann Taylor, Apple, AT&T, Bank of America, The Cheesecake Factory, and GNC
5. Northshore Mall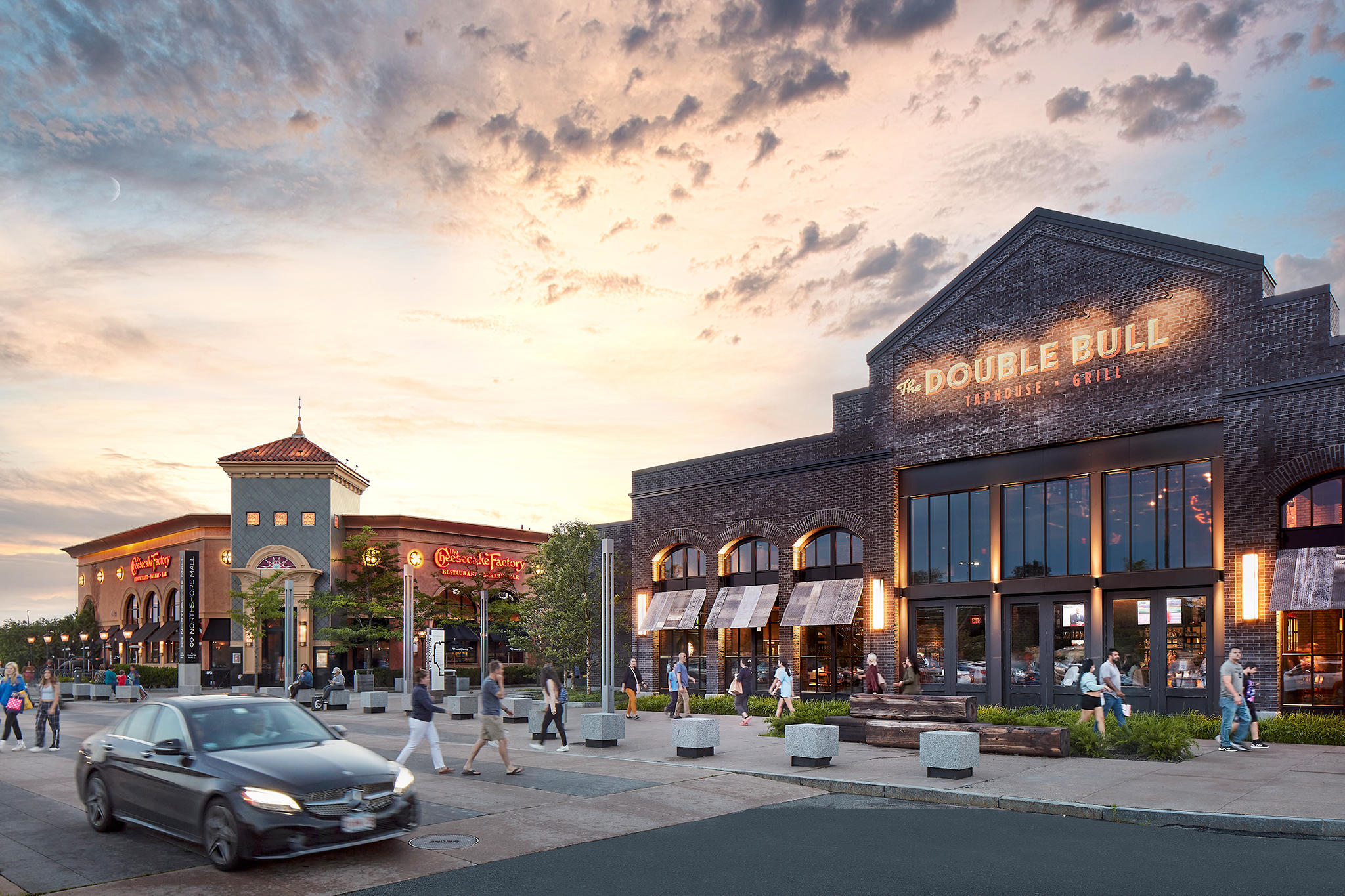 A shopping mall built on two levels, Northshore is climate controlled and is located 18 miles from Boston. With more than 130 stores, you can find everything you're looking for, from clothes to eating outlets, spas, and other services. Some of the well-renowned outlets at the mall include Nordstrom, Macy's, The Children's Place, Lush, Sephora, Legal Sea Foods, and Not Your Average Joe's.
If you head on over to their deal page on their website, you can find plenty of amazing offers on your favorite brands. Along with this, you should check out their latest events and news so that you and your family can make the most of your visit. For instance, on March 25, you get a chance to meet the Boston Players Sam Hauser and Derrick White and chat with them about all things basketball. You can even take photos with them and have them sign an autograph for you.  
Address: 210 Andover St Peabody, MA 01960
Phone Numer: (978) 531-3440
Website: https://www.simon.com/mall/northshore-mall
Main Stores: Aerie, American Eagle, Amigo's Mexican Kitchen and Tequila Bar, Arhaus, Art of Eyebrows, and Barnes & Noble
6. Copley Place
Copley Place is found in the Bay Area and is a luxury shopping mall that features many of the best stores that you can find in Massachusetts, over 50, to be precise. These include Tiffany & Co., Gucci, Christian Louboutin, Louis Vuitton, Versace, Yves Saint Laurent, and Legal Sea Foods.
The mall is constructed on two levels with easily accessible parking. Other amenities include currency exchange stations, handicapped-accessible restrooms, wheelchairs, and wireless internet. If you're on a budget, you can skip the luxury brands and visit some of the more budget-friendly products and keep an eye out for their deals for exclusive discounts for a chance to save more money.    
Address: 100 Huntington Ave Boston, MA 02116
Phone Numer: (617) 262-6600
Website: https://www.simon.com/mall/copley-place
Main Stores: Alexander McQueen, Boss, Boston Barkery, Carolina Herrera, Cristian Louboutin, Dior, Fendi, Eden Park, Ferragamo, and Hive & Colony
7. Solomon Pond Mall
Solomon Pond Mall not only provides a great shopping experience but is also a fantastic destination for dining and entertainment. The best part is that it is family-friendly and so your entire family can look forward to an outing there. It has more than 90 stores, such as Macy's, The Apple Store, H&M, and Victoria's Secret. Plus, there is no need to eat before you leave home because the mall hosts different eating outlets like Bertucci's, Burger King, Charley's, and TGI Fridays that cater to all kinds of taste buds.
After you are done shopping and eating all the delicious food, you can enjoy a film at the 15 theater Regal Cinema. Be sure to check out their deals and special offers before you shop. You never know; there might be a great opportunity to save money. If you don't have the time to visit the mall, you can shop online on their website from the comfort of your home. 
Address: 601, Donald Lynch Blvd Marlborough, MA 01752
Phone Numer: 508.303.6255
Website: https://visitsolomonpond.com/
Main Stores: Bath & Body Works, Forever 21, Old Navy, Oriental City, Paris Nails & Spa, and Aéropostale
8. The Shops at Chestnut Hill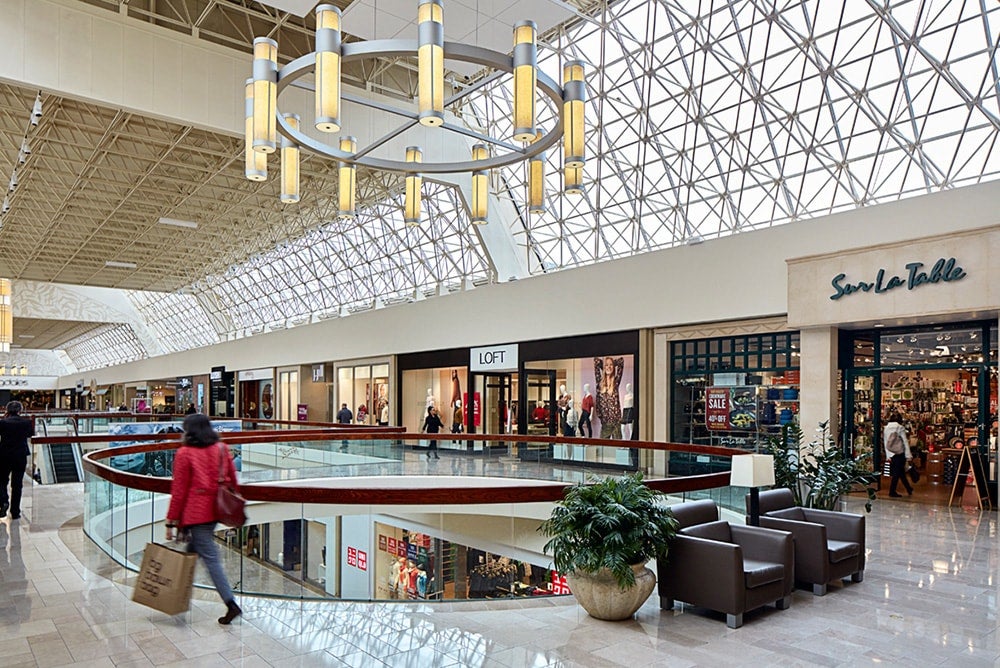 An upscale, two-level, and enclosed shopping mall, it is built in the Chestnut Hill area of Newton, hence the name. The best part is that the only Bloomingdale's present in Massachusetts is located here. There are more than 50 retailers in the mall, including but not limited to Michael Kors, Stuart Weitzman, Coach, and Uniqlo. For a unique and fulfilling dining experience, you can visit one of the many eateries present there, including The Cheesecake Factory, Tokyo Japanese Steakhouse, The Friendly Toast, and Frank Pepe Pizzeria Napoletana.
The facility also provides a comfortable shopping experience for its clients by offering amenities such as accessible entrance and parking, a baby changing station, a mall map for easy navigation, mobile device charging stations, wheelchairs, and complimentary wireless internet. So, buy yourself anything you want and especially check out their numerous deals on various products. They also have many family-friendly events happening in their vicinity, which you can enjoy with your family and close friends.
Address: 199 Boylston St, Chestnut Hill, MA 02467
Phone Numer: (617) 965-3037
Website: https://www.simon.com/mall/the-shops-at-chestnut-hill
Main Stores: Apple, ASA Jewelers, Ann Taylor, AZ Fine Art Gallery, Brooks Brothers, Crate & Barrel, and Queenia
9. The Longmeadow Shops
Present in Longmeadow, Massachusetts, The Longmeadow Shops are located in an outdoor setting and were originally designed by Prestley Blake in 1962. However, in 1994, Grove Real Estate bought the property from Blake. The vicinity is host to numerous retail shops, restaurants, cafés, and also a luxury spa. On its eastern and western ends, you can find community conveniences like financial institutions, medical and professional offices, as well as a drug store. On their website, you can head on over to their shop discounts to see if you are eligible for a discount. Plus, on their events section, you can check out their current and upcoming events, such as 'Meet the Easter Bunny' happening on April 1st. This is something that kids will especially enjoy, so if you have children, you can have fun with them at the venue. Another is a Mother-Daughter Self-Defense Class happening on May 2nd. 
Address: 690, Bliss Road, Longmeadow, MA, 01106
Website: https://thelongmeadowshops.com/ 
Main Stores: Ann Taylor, J. Crew, Delaney's Market, Francesca's, Gap, Talbots, and Verizon
10. The Shops at Prudential Center
Located in Back Bay, this urban center comprises 680,000 square feet of retail space with more than 72 shops and eating outlets. Some of the major retailers that it houses are Polo Ralph Lauren, Tesla, Sephora, the Under Armour Brand House, Eataly Boston, Canada Goose, and Aritzia. The center is so famous that Women's Wear Daily ranked it as one of the top 5 shopping centers in the nation, and it has more than 60,000 customers visiting its premises every day.
Plus, visitors can enjoy a whole range of amenities, such as a full-service U.S. Post Office, Zipcar, a Boston Sports Club, and a Catholic chapel. In addition, it has the largest parking garage in New England that can park more than 3,600 vehicles. If you want to take a break from shopping, you can head on over to the South Garden which covers an area of 1.3 acres and is an open-air park providing the utmost relaxation and entertainment with a built-in stage for musical performances, ample seating areas, and water features. 
Address: 800 Boylston St, Boston, MA 02199
Phone Numer: 617-236-3100
Website: https://www.prudentialcenter.com/
Main Stores: Bonobos, Club Monaco, Canada Goose, Kate Spade New York, MAC Cosmetics, Oak + Fort, and Saks Fifth Avenue
11. Legacy Place
Open throughout the week, Legacy Place is located 25 minutes from Boston and features local retailers and national brands, food, entertainment, and fitness. Plus, to keep every day different and interesting, there are many events and a lot of space to sit in the fresh air which you enjoy with your family and pets.
In addition, there is no shortage of parking, and you can enjoy amenities like free WiFi. If you go towards Legacy Boulevard from Legacy Place, you can find Wigwam Pond. The water is spread over 23 acres and links with a kayak trail. If you're a nature lover, you'll enjoy this, and if you sign-up for their newsletter, you'll get updated on special offers and exciting upcoming events. 
Address: 680 Legacy Place Dedham, MA 02026
Phone Number: 781-329-3009
Website: https://legacyplace.com/
Main Stores: Aerie, Altar'd State, Free People, GAP, Indochino, Lunette Optic, and Loft
Making the most of your trip
Your trip to these stores won't be any different if you don't benefit from their offers. But sometimes, you have to hunt for special discounts by asking around and planning ahead. Here are some tips to help you save the most amount of money in the least time possible:
1. Get Coupon Information
A few weeks before you plan to visit any of the above malls, sign-up for their newsletter. This way, you'll be updated on any deals offered, and you can browse through to search for the ones you're interested in. You can also visit their official website to learn about their discount coupons and sales and sign-up for notifications so that you can receive additional discounts on your purchases. If you don't have time for this, then you can simply visit their information desk to pick up any coupons that are available.
2. Check offers to make sure they are worth it 
If an offer says, 'buy two, get one free,' check similar offers from other stores, tally their prices and quality of products, and see where you're saving the most amount of money. The calculation is simple, and luckily you don't have to be a math whizz for it. This simple check will ensure you buy the greatest value for money. Plus, make the most of the offers during major holidays such as Black Friday. In fact, wait for such holidays to make major purchases at expensive stores because you'll save a ton of money.
3. Make prior visit plans
You'll be the most time-efficient if you plan your visit for a time and day when there is the least amount of crowd. No one wants to be stuck in never-ending queues or wait their turn before they can finally try clothes that they like. Malls are generally jam-packed during the holidays and on weekends. In addition, pay a visit when malls announce special deals and discounts.
4. Be on the lookout for sales
Even though you will most likely find discounted prices at most outlets, sales are nevertheless attractive. You can get to know about a sale from their official website or the clearance desk. The best deals will most likely be on products that are out of season.
5. Know their return policy
Since most outlet stores want to clear out most of their products, they might be strict about returns. Additionally, regular stores might not accept returns of items bought from outlets. Therefore, before you buy any product, be sure to know what their return policy is or be 100% sure that you will end up using the product you're buying for a long time.